Having a wee rummage through my polishes and decide to give my nails a wee lick of paint :)
I wanted to try out the Technic crackle polish as I'd used it once before and wasn't too impressed with it. Can't decide if I like it with this blue or not.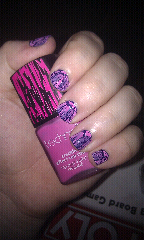 One of my least favourite things about crackle polishes is the matte effect you get after they have dried so I just stick a clear top coat over it so it's nice and shiny. I prefer shiny to matte nails. What about you?
Should have just left my nails like this, think they look much nicer. Ah well, trial and error!
Whats your favourite polish these days? What's your go to polish? What have you heard rave reviews about but not had the chance to try? Let me know!